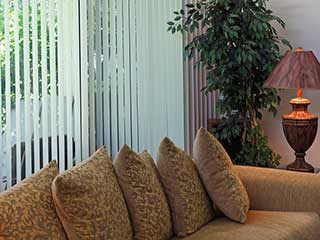 If you have some long windows or sliding glass doors in the Escondido area that could use some coverage, you might want to look at vertical blinds. These covering options do very well with large glass surface areas. Vertical blinds for windows that are too long for the usual treatments circumvent most of the structural issues and are just as protective. Arrange a free estimate with the team at Blinds & Shades Escondido, and we can get to work on some special vertical blinds custom made for you. We provide our services throughout the local area, and at prices you won't often see for high-quality custom shading products!
Vertical Blinds For Windows In Escondido Homes And Businesses
The most obvious places for vertical blinds are low, wall-length windows, which are often found in waiting rooms, kitchens, and offices. Vertical blinds for office windows are well placed in particular. Their sideways motion lets you adjust them to protect waiting areas or computer monitors while still letting in sunlight. The same principles apply to living rooms with sensitive furniture and TV's, galleries with open displays, and anywhere else that long windows meet delicate interiors. Long windows often come with sliding tracks, so installing another set in front of them for the blinds is easy!
Blinds For Sliding Glass Doors
With the last century's spread of sliding glass doors, windows stopped being the only things that need vertical blinds. While curtains do an adequate job of reducing sun glare and visibility through a sliding door, rotating vertical blinds offer complete and very adjustable protection. Vertical blinds with curtains working together grant you the best versatility, and our team will be happy to set them both up! Your deck or patio will become a whole different space with some well-chosen door coverings.
What Kind Of Blinds Would You Prefer?
In addition to giving you your choice of colors, panel widths, and detailing, Blinds & Shades Escondido can craft your vertical blinds from a variety of materials. Wooden blinds are strong, elegant, and long-lasting. Aluminum vertical blinds are cheap, don't get stuck easily, and stand up well to moisture. Vinyl or composite blinds can have a range of properties, varying in price, aesthetic qualities, and durability, not to mention weight. There's no one type of vertical blinds that you can call the best. It all depends on what you need for your own home or workplace!
Get Your Vertical Blinds Motorized
One drawback of vertical blinds is that they can be somewhat heavy, and pushing them the wrong way over time can cause wear and tear. You can avoid these issues, and also make your life much more convenient in general, by investing in motorized vertical blinds. Automatic blinds don't have human error issues, take less time and effort to adjust, and can have other benefits if you invest in extra features. But your blinds on a timer, and you won't have to remember to adjust them. Hook them up to one of our advanced sensor systems, and they'll watch over the room's light and heat levels all on their own!
Vertical Blinds Installation Services Anywhere In Escondido!
Call Blinds & Shades Escondido today and arrange a consultation appointment so we can give you a free estimate on your custom vertical blinds. When they're ready, we'll bring them right back to your address and set them up. From blackout to room darkening to a variety of styles and materials, the amount of customizable choices is extensive. See our selection and pick the features and look you want for your new custom made blinds.