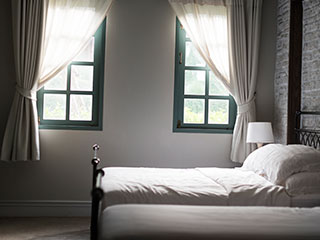 A great way to control natural lighting is with blackout window curtains. Sheer coverings will let diffused sunlight in, which can be nice for kitchens and various other rooms. But for bedroom windows, blackout curtains offer the best solution. You need your sleep to stay optimal so you don't suffer, wake up groggy, or experience fatigue during the day. Blackout curtains for bedroom windows completely eliminate the presence of sunlight. This way, you can fall asleep quickly and stay sleeping for as long as you want. Room darkening window curtains offer an excellent choice for Escondido living rooms too, as well as commercial spaces where you want privacy.
Living Room Curtains – Blackout Windows
To create the perfect TV watching experience you need to darken the living room. With blackout window curtains, you can create total darkness in the TV watching room and enjoy movies or shows with immersive ambiance. Darkening the living room with blackout window curtains helps set the mood for all sorts of occasions. But to create a movie theater type experience, you need to create complete darkness with the only source of light the TV screen. Plus, blackout living room curtains also create more privacy. So if you've got large sliding glass doors or window-walls overlooking the patio, blackout draperies will cover them nicely.
Motorized Blackout Window Curtains – Remote Control Features
A great covering solution with room darkening properties should also have a fast and easy control method. Motorized curtains provide a swift and simple solution for covering windows, big and small. Perfect for bedroom windows, motorized blackout curtains will restrict sunlight and help you optimize your sleep. Forgot to draw the curtains closed? No worries. Just use the remote. You don't need to climb out of bed when you're all snuggled up and comfortable. Many Escondido bedrooms flaunt blackout curtains with remote controls for these reasons. Motorized draperies offer inexpensive and effective covering solutions for all types of rooms.
Window Curtains For Privacy
The room darkening quality of blackout curtains makes them great for other spaces than bedrooms. You can get blackout curtains for Escondido office spaces, and that way you have complete privacy whenever you want. Restricting sunlight access also prevents any visual interaction. Meaning, blackout curtains on office windows don't let people on the outside peer inside. You can have private meetings or just time for yourself simply by drawing the curtains closed. The blackout fabric will not allow any light in, not even from artificial sources. Blackout curtains provide a great solution for commercial properties like doctor's offices and clinics too. With patient confidentiality, you need to ensure you've got window treatments that provide complete privacy.
Cheapest Escondido Blackout Curtains Source
Got windows of particular sizes or builds? Not to worry, we make all our blackout curtains custom made to measure. That means you can get these room darkening window coverings in a variety of designs and sizes. Tell us what you're looking for and we'll help you design a custom set. Schedule a free consultation today and consult the best blackout window curtains makers near you.