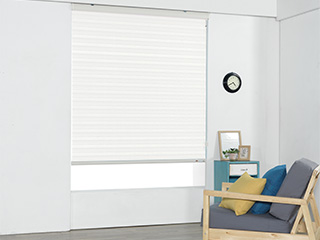 Roller shades offer versatility, full functionality and style all in one making them a top choice for some. They can be beneficial in both home or office and can even be motorized for ultimate convenience!
Affordable And Stylish In One
The simplicity of roller shades makes them one of the least expensive options to choose as window coverings. However, that doesn't mean that they can't also be stylish and look good in your home or office. With so many options of style, fabric and color to choose from, you're sure to be able to find what suites you best at a great price!
Easy Light Management
For many people, too much sunlight coming in through the window can be an issue. It can cause glares on TV or computer screens, color fading on furniture and heat penetration which can negatively effect your energy bill in the summertime. Roller shades are a great option because they allow you to choose just how much sunlight you want coming in to the area and they also help manage the heat penetration issue as well!
Convenient Motorized Option
A lot of people know just how annoying it can be to deal with those pesky chords associated with window coverings. The good news is, with these coverings, there are motorized options available as well. Eliminate the use of chords altogether and achieve the desired effects with the simple push of a button! Also great for hard-to-reach places and for those who may be physically disabled, or just need a little help getting around. You can also set them on a timer so no matter where you are and what time of day, your shades will be doing exactly what you want them to.
Contact Us Today
When selecting window coverings that look good and are affordable, Blinds & Shades Escondido has got you covered! You can count on a vast variety of great products, excellent customer service, and professional results when selecting us. Our company also offers free consultations and color samples making finding exactly what you want hassle free! Contact us today.