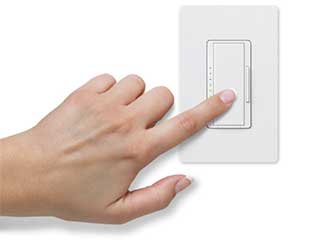 A well-chosen set of window shades adds a lot of decorative value to your property and makes any room more comfortable and attractive. With modern smart shades, those are only the very beginning of the benefits! Lutron shades employ onboard batteries, silent motor operators, and advanced smart control systems to provide you with safety and budget reduction as well as comfort. With our local Escondido motorized shade experts, you can order a custom set of remote control window coverings made just right for your own property. We even include free estimates with zero obligation for all potential customers! You'll get not only the perfect decoration scheme, but also climate control, furniture protection, and privacy assurance that all manage themselves.
Motorized Shades For Safety And Convenience
Unlike traditional hand-drawn shades, motorized shades are cordless. This means no safety risk for children! On top of that, the electronic controls are both a time and effort saver and a potential house protector. Set your shades to open and close on a timer, and you'll never come home to sun-bleached furniture or an overheated house after forgetting to adjust them. Motorized shades can shave up to eleven percent off your AC/heating bills, especially if you have a lot of windows to cover. When you add in the furniture protection and reduced chances of burglary, Lutron's motorized shades quickly pay for themselves.
What Smart Shades Add To The Equation
Timers solve a lot of problems, but smart controls and Wi-Fi-connected operators for your shades solve even more. Lutron's motorized smart shades will react to changing weather conditions based on local reports, or using their own light and heat sensor systems. You can also adjust them or change their programming without even being in Escondido, just using your smartphone. Compatible with Google Home, Alexa, and other personal assistant and home management systems, Lutron shades are a valuable control and security feature.
Affordable Lutron Shading Solutions in Escondido
Choosing the style of window shades that work best for you and your property can be a little overwhelming. From rippling Roman shades to sheer shades with slats, with the full spectrum of colors and a long list of materials to choose from, it's a lot to consider. That's why we provide free consultation appointments to all Escondido area customers, with obligation-free quotes and estimates. We'll help you design exactly the set of custom Lutron shades that you need, including your choice of control systems and special features. Call to book a free quote before ordering!