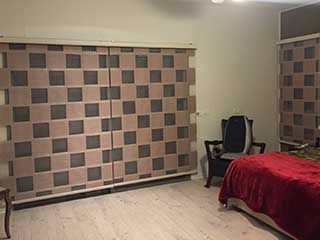 Looking for something a step above standard window coverings? Perhaps you're not sure whether blinds or shades are the right choice for your room? In that case, sheer shades are the ideal solution; these treatments provide all the privacy and ambiance of shades with the light control of blinds. They make for a perfect combination of the two different types, and are an excellent way to control natural lighting in every room.
What Are Sheer Shades?
These coverings are designed to combine all the best features of both types of window treatments. They look very similar to blinds when they're closed, with an array of vanes that can be manipulated individually. But sheer shades are also fitted with a layer of gauzy material between the slats. This means they provide a much more fully-rounded solution than standard blinds do. You can opt to have them fully open, fully closed, or somewhere in the middle range, which means you've got a varied range of light filtering options.
Advantages Of Sheer Window Coverings
Without this gauzy material between the slats, blinds aren't always capable of controlling light properly or to the fullest. In bright sunlight you'll find that glare comes straight through the gaps, and your only way of preventing this is to close the coverings altogether - now your room is darker than it needs to be. By fitting this gauzy material between the slats, sheer shades allow you to make the most of available sunlight, while still filtering UV rays and without worrying about too much glare.
A Wide Range Of Design Options
Sheer shades are ideally suited to living rooms and dining rooms, where you'll want to have maximum natural light throughout the day. You're not restricted to just a few choices when installing sheer shades in your home. There are plenty of different materials to choose from, as well as all sorts of colors, from light to dark.
How Can Sheer Shades Benefit You?
Few homeowners really appreciate just what a difference natural light can make to their home, and how sheer shades can be the answer to many interior design problems. To find out how Blinds & Shades Escondido can help you, and to arrange a free consultation, simply contact us today.