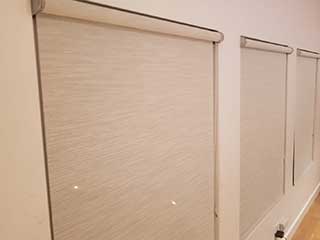 Blackout blinds are a great, cost-saving way to keep a room comfortable and protected from outside light. They combine the protectiveness of solid window shutters with the flexibility of cloth shades. Our blackout blind products are custom made for each window. We can install them at any home or business close to the Escondido area.
What Are Blackout Blinds?
Blackout blinds have a layer of reflective foam lining the fabric. With most fabric window treatments, some of the outside light is blocked by the fabric, while some passes through and into the room. When sunlight hits a blackout blind set's foam layer, it's reflected back out through the cloth layer. The sunlight passes a total of twice through the thick fabric before bouncing back outside. This means there's no unpleasant glare for passerby. Blackout blinds are advanced construction, but they're also simple and flexible enough for all sorts of styles and shapes. Despite the name, they also don't have to be black. As long as it has the reflective foam layer, fabric of any color can line your blackout blinds.
Home And Bedroom Blackout Blinds
Any room in Escondido with delicate wallpaper or furniture benefits from blackout blinds, but some benefit more. If there's any one room in the house you should get them for, it's the bedroom. With some blackout blinds drawn over the windows, you'll never be bothered by early sunlight or nighttime traffic lights. Blackout blinds for bedroom windows also do a great job of protecting your privacy. Since our blinds are soft, flexible, and come in any color, you can order to match your bedroom's décor.
Blackout Blinds For Office Windows in Escondido
The workplace also needs a reprieve from harsh sunlight and peeking neighbors. Blackout blinds protect your computer screens from sunlight damage. They also protect your eyes from reflected glare when you look at those screens! Get a set of motorized blackout blinds, and you can adjust your office windows during worktime without creating any disturbance.
Motorized Blackout Blinds
Traditional drawcords can be inconvenient and prone to breaking. If you have small children in the house, they can also be dangerous. Our blackout blinds can include electric openers and controls. These will let you adjust your blinds with the push of a button, no dangerous cords or irritating physical activity required. With the addition of a timer or sunlight sensor, you can even train your blackout blinds to work on their own. Save money on heating, air conditioning, and home repair costs by letting the computer make sure harsh sunlight never gets in!
Roman Shades & Other Room Darkening Covers
If you have more specific needs, Blinds & Shades Escondido has your back. For a tall, centerpiece window, consider getting blackout Roman shades. The foam-lined fabric used in blackout blinds is flexible enough for pleating, and nothing says class like a rippling Roman-style window covering. If you have a long, low window, we can install some vertical blackout blinds that move from side to side, working with the shape of your window. Embellishments like valences, trim, embroidery, and many others are all available.
Escondido's No.1 Source For Custom Blackout Blinds
Give us a call and we'll send an expert over to provide a free estimate and consultation. You'll see our selection of custom room darkening window treatments and choose materials, designs, colors and more. Once we've finished making your new blackout blinds, we'll deliver and install them for you ASAP! Schedule a free consultation anytime via our online system or by calling our service hotline.