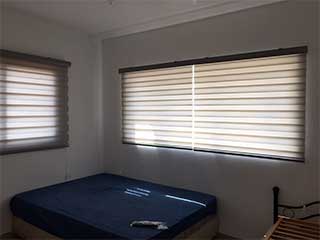 Window blinds and shades afford us all sorts of benefits. They reduce glare from the sun as well as protect us and our furniture and upholsteries from the damage of UV light. In addition to that, some types of coverings, like cellular shades, can also provide an added layer of insulation, helping you lower your electricity bill.
Thermal Efficiency With Style
Every property owner, whether it's a home or a business, would like to keep their monthly bills as low as possible. Finding a cheap way to do that is always great, so you'd be glad to know that with cellular shades, you can truly decrease your monthly spending on electricity. How? The cellular structure of these energy efficient shades creates a buffer that significantly reduces the rate of heat transfer. That means that hot air will have a very hard time moving from inside the room to outside, and vice versa. Windows are usually major sources of heat escape and intrusion, so covering them with a shade that's capable of mitigating that is incredibly beneficial.
A Selection Of Designs
So after establishing the utility of cellular shades, let's talk about décor. You have a wide range of choices when it comes to determining what your custom made cellular shades are going to look like. From textured patterns to smooth, single or multi-color designs. You also have your choice as to the type of fabric that'll be used to create them. Sheer material will allow more filtered sunlight in, helping you illuminate the room with natural lighting. More opaque varieties will offer you increased privacy options and room darkening or near blackout conditions.
It's Your Decision – But Experts Can Help
You're the ultimate decision maker, seeing as how they're going to be your cellular shades, hanging over your windows. But that doesn't mean you can't get helpful advice from professionals with years of experience in the field. For a free consultation at your home or business, contact Blinds & Shades Escondido and have one of our specialists come and show you our wide range of custom made shading products. Even if cellular shades don't pique your interest and you're more inclined to go with some other type of window treatment, you can bet that our team will be happy to help.