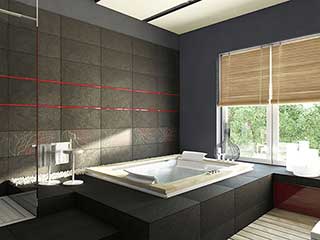 Cotton, Flax and Plastics
The same materials used for the majority of clothing are also in common use for window shades. These materials are fairly durable, and block out most if not all of the incoming sunlight depending on their thickness. Different coloration can make them rather fetching in appearance as well as embroidery, tassels and other such embellishments.
The Decorative Fabrics
Rarer fabrics such as those made of wool, silk, or velvet can have a wide range of properties with regards to appearance, durability, and translucence. What all of them have in common is style. For a highly decorative window shade that speaks to class and aesthetic tastes, these have been the go-to options for centuries, or in some cases millennia. Wool and certain silks are much stronger than cotton and the like, while thin velvets and other types of silk are thinner and more fragile.
Wicker or Bamboo
Woven wooden twigs or fibers, including wicker, bark, and bamboo weaves, are another favorite of those who want their shades to be decorative first and foremost. These materials can be somewhat higher maintenance and more fragile than more common fabric, but they also provide very solid, filtered sunlight protection and opacity. Thinner wooden weaves can be attached to a roller system, while thicker and heavier ones may need a sliding screen.
UV Repelling Materials
Polyester, fiberglass weave, and similar sheer, reflective materials are growing in popularity due to their ability to filter out harmful ultraviolet light while letting in a much more generous share of the visible light that keeps a room illuminated. This allows a very thin, sheer layer of see-through material to protect your skin and your furniture while enabling you to see through the window. Additions such as blind slats or alternating layers of darker fabric can help break up the visible glare and grant you more privacy.
There's a lot more to shades than just material! Read more of our blog posts to learn about different styles, color schemes, and more, or call us today for our products and services.