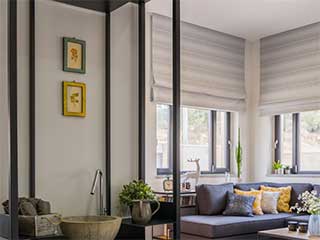 For a classic and elegant style that's been used for centuries, Roman shades are exactly what you need! They'll give any area a more interesting appearance, all while working to reduce glare and give you privacy as well. What's not to love?
Won't Go Out Of Style
While some other types of window coverings risk falling out with the latest trends and no longer being what's considered fashionable in the home, you won't need to worry about this when it comes to Roman shades! Their aesthetic is truly ageless considering they've indeed been used since Roman times, so there's no concern of them needing to be swapped out for the next big thing.
A Gorgeous, Refined Look
The reason Roman shades stand out so much from other styles of shades is due to the fact they fold up when they're drawn upward, rather than rolling up. These big, billowing folds create a distinct and soft impression, rather than hard, straight lines as some others create. If you're interested in giving your sitting room, dining room, or bedroom an air of grace and dignity, these are the shades that would best achieve that without a doubt. They'll be that perfect finishing touch to any room that already oozes luxury.
Customized To Your Needs
Aside from our professionals offering customization when it comes to the size and shape of your shades to take care of any unusually shaped windows, this ability to personalize your Roman shades doesn't stop there! With help from our free consultation and color sampling, you'll be able to find the perfect shade of color, texture, and pattern to suit any space with ease. This includes sheer or solid options for fabric depending on how much or little natural light you want to be allowed inside! They'll complement your home and add enviable style all in one before you know it.
Reach Out To Us Today
Why not easily bring out the beauty in your home with the addition of Roman shades? They'll be sure to impress visitors and your family alike. Contact Blinds & Shades Escondido today for more information!