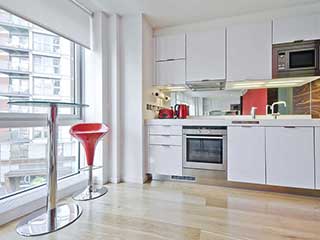 Our company designs and manufactures window shades, blinds and draperies of all kinds, most of which also come in motorized form. A remote-controlled window treatment can save you more trouble, worry and heating expenses than most people realize and with us, you can have them made according to your exact specifications.
Safe and Convenient
Without dangling cords or strings, motorized shades are safe even for spaces where babies and small children will be wandering. If you have a lot of windows to keep track of but not the time, energy, or attention to keep track of all of them, automating their shades lets you adjust them all remotely. You can even program them to open and close automatically at certain times of the day. This has some additional benefits as well.
Furniture and Power Saver
The reliability of a well-programmed automated shade ensures that your wallpaper, carpeting, and furniture are never exposed to excess sunlight and that the shades are opened and closed at the proper times, to prevent unwanted solar heating or convective cooling through the windows. With the issue of forgetting or not being there to adjust every shade all the time resolved, you're likely to save considerably on air conditioning, heating and furniture costs in the long-run.
Available In All Styles
Shades of almost any style can be motorized, from simple fabric rollers to multipart sheer shades. If you'd like to maximize the low-cost heat insulating benefits of your motorized shades, consider getting honeycomb-patterned rollers. Otherwise, if aesthetics are key, consider some Roman pleats or bamboo screens. Blinds & Shades Escondido products come in all shapes, colors, and materials; just look through our other product pages to learn about some of the options.
Contact Us for Shades
Get in touch and tell us exactly what kind of motorized shades you need and your order will be delivered straight to your Escondido, CA address. Our team also provides installation services. Call us today!