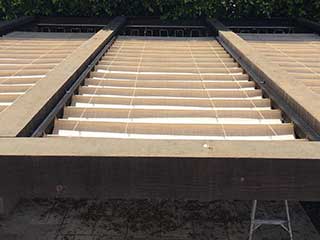 Patios and decks are great to have, but it's annoying when the sun is too harsh or the rain too hard to use them. A good patio cover solves these problems and creates a much more appealing outdoor space. If you decide to go all out with it and add motorized patio shades, you'll get even more flexibility and convenience. You've got many different choices when it comes to shading solutions for outdoors. Patio covers motorized with smart remotes can provide a high-tech option for creating shade in outdoor patios. For gazebos and pergolas, motorized canopies can add a functional option. And you've got all softer choices too like sail shades stretched over open spaces or pop-up canopy tents. As a leading provider of Escondido patio covers, we'd happily help you find the perfect option for your property.
Full Patio Covers Or Smaller Outdoor Shades?
The traditional solution to the "how to cover my patio" problem is to build a solid roof overhead. If you're online looking up patio shades, then that's probably not the answer you're looking for. However, there's a spectrum going from wood and shingles roofing to nothing at all. Opaque awnings with heavy support frames, for instance, provide as much protection as a roof but are still retractable. On the other side of the scale, sail shades or canopy tents made of thin material offer partial shading with an airier aesthetic. Choose the patio shades that protect from sunlight in designated spots while also adding to the aesthetic. Patio covers can give your Escondido yard or deck a nice look while serving a functional role.
Motorized Patio Covers – Escondido's Best Source
Being able to cover or open up your patio with a flick of a switch or a tap on your smartphone makes life quite a bit easier. If you include sensors with yours, you can even let your motorized patio shades deploy or retract themselves when appropriate without needing any input from you. However, motorized patio shades can be high maintenance systems, especially if you have a large area to cover. Talk to our experts about the pros and cons of different motorized patio cover systems, and decide what sounds best for you. Going with remote control patio shades has a nice aesthetic attached to it. The technological advancement of motorized patio covers makes these solutions great for backyard areas and various outdoor shade structures.
Freestanding Patio Shades vs. Awnings
Traditional patio covers are awning style, extending from the side of a building on frames or held up on the leading edge by columns. That type of covering, including motorized awnings that extend on folding robot arm frames, is perfect for narrower spaces that hug a building's side. Not all patios and courtyards have a wall nearby to support this type of cover. For those, you need freestanding patio shades. This type of cover stands on support columns of its own, which makes freestanding patio shades almost a kind of outbuilding. Remember that these patio shades types serve different purposes each. Awnings can add nice shields from sunlight at specific angles. They work great as extensions of patio covers too.
Patio Canopy Tents And Sail Shades
There are deployable fabric shades that don't have any permanent supports at all. Pop-up canopies, for instance, are more like partial tents that you can set up or take down almost anywhere. Sail shades are tarp-like covers that you stretch taut between any available attachment points, which you can place or move. Motorized patio shades with the sail structure also exist. Cables stretched between poles provide supports for motorized sail shades to move on rollers, though at the loss of movability. Escondido patios with canopy tents can flaunt a unique look. And the same goes for sail shades that you can stretch over a patio pool deck or other areas.
Get New Covers For Patios Custom Made
Manual and motorized patio shades are tricky to find in the exact right dimensions, so custom design is a great solution. You can take advantage of our free consultations on custom made outdoor shades and canopies to see what sorts of patio covers work for your Escondido area residence or for different commercial properties. You'll get recommendations, advice, and estimates all for free! We design motorized awnings, pop-up canopies, freestanding courtyard shades, and everything in between. Call to schedule a free consultation on any patio covers you want!