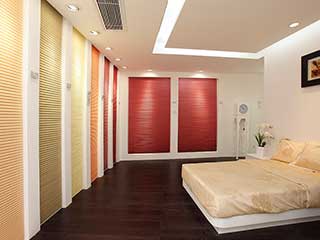 For most rooms, you can just choose the type and color of window blinds that best match the aesthetic you want. In a bedroom, the choice of blinds is a lot more important! Having enough protection from the morning sun without making the room stuffy and gloomy is a delicate balance. There are some specific types of window treatment designed just for this, though! Finding the right blinds for your bedroom will help you get better sleep and will improve the décor. Read on to get acquainted with the most appropriate options.
Adjustable Venetian Blinds

Venetian blinds offer some of the best flexibility when it comes to light levels. When the slats are rolled into their vertical position, the blinds form a solid wall, but still let some air in around the sides of the hanging screen. With very minimal effort, they can be adjusted as needed in the early morning or late evening. This keeps the environment comfortable, letting you wake up or fall asleep at your desired pace. For even more restful adjustment, you can have motorized Venetian blinds set act on a timer, or in response to sunlight levels. You don't even need to press a button as your falling asleep or waking up.

Protective Panel Blinds

If your bedroom has good ventilation, large overlapping panels can cover the windows without making the room too stuffy. With fabric lining in purple, navy blue, maroon, or another soothing color, you can keep your window looking and feeling soft and blanket-like while screening out all the sunlight. Like most styles of window coverings, these can be motorized blinds, controlled remotely, by a timer, or by a sunlight sensor. Motorized shades and blinds have a lot to offer in terms of convenience and utility. Automatic window coverings are one of the most popular types of blinds and shades for bedrooms or any rooms period.

Insulating Cellular Shades

Sunlight isn't the only problem with a bedroom environment. Depending on your location and architecture, you may be plagued by excess heat and cold when you're trying to sleep or be woken up prematurely by the same. Cellular or "honeycomb" shades are the most insulating option against heating and cooling alike. With a multi-layered screen, these shades can also be as opaque as any blinds, while hanging loosely enough to keep the room airy.

The Blackout Blind

These folded and sewn fabric blinds are soft and flexible, but screen out nearly all sunlight and insulate against noise as well! Blackout blinds line your bedroom windows with cozy and comfortable barriers against any intrusion and turn the room into a peaceful cocoon of relaxation. Don't let the name fool you! Blackout blinds can come in any color you prefer, including everything from dark purple or black to bright tan or white. If your window gets a lot of direct sunlight, you might prefer a reflective color to keep your bedroom from getting too hot.
Consult With LA-based Blinds Experts
You can learn more about blinds for bedrooms and other window treatments by reaching out to us for a free, in-person, consultation appointment. If you have any questions or ideas about how to protect your Los Angeles bedroom, call Blinds & Shades Escondido and let us help you out! Free estimates available.