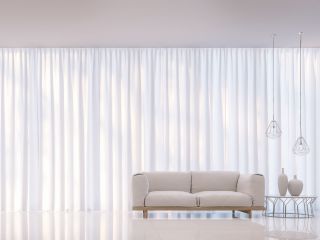 Are you looking to transform your space with elegant draperies, curtains, and advanced motorization options in Escondido? Blinds & Shades Escondido has you covered!
At Blinds & Shades Escondido, we're passionate about enhancing your indoor and outdoor living spaces. Our extensive range of premium draperies and curtains, along with cutting-edge automation solutions from industry leaders such as Somfy and Lutron, ensures your home or business enjoys both style and convenience.
Draperies & Curtains - Elevate Your Space
The Allure of Draperies & Curtains:
Stylish Elegance: Draperies and curtains offer a timeless and sophisticated look, instantly elevating the ambiance of any room.
Light Control: Achieve perfect lighting control, from softly filtered to complete blackout with our selection of curtain fabrics.
Privacy & Insulation: Enhance privacy and improve energy efficiency with our high-quality curtain options.
Endless Customization: Explore an extensive range of colors, patterns, and styles to match your unique aesthetic.
Durable Quality: Our draperies and curtains are built to last, providing long-term value.
Why Choose Blinds & Shades Escondido?
Expert Consultation: Our experienced team offers a free consultation to help you choose the perfect window treatment for your residential or commercial space. We'll guide you through the process, ensuring your space gets the treatment it deserves.
Professional Installation: Leave the installation to us. Our experts will handle the entire setup, ensuring a perfect fit for your draperies, curtains, or automated window treatments.
Window Treatment Ideas: Not sure where to start? We provide creative ideas and inspiration to help you make the best choices for your space.
Discover Our Range of Window Treatments
Whether you're interested in blackout curtains, Roman curtains, roller window curtains, or custom drapes, we have it all. We also offer an extensive selection of blinds for curtains, curtain panels, custom curtains, and more.
Why Blinds & Shades Escondido?
Local Expertise: As a local business in Escondido, we understand the unique needs and preferences of our community.
Top Brands: We exclusively work with renowned brands like Somfy and Lutron to bring the latest in window treatment automation to your space.
Tailored Solutions: No two spaces are the same, and we tailor our services to meet your specific needs, ensuring your window treatments are the perfect fit.
Visit our store today, or contact us for a free consultation, and let us show you how we can transform your space with our premium draperies, curtains, and automated window treatments.