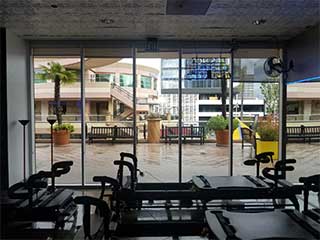 Providing a comfortable, healthy environment for customers and employees alike is one of the foremost objectives of any business owner. Natural light is one of the most important parts of any room, but it's often underestimated by property owners. Investing in good quality blinds and shades that are designed around your needs is a great way to improve the experience of anyone that spends time in your commercial property. Blinds & Shades Escondido specializes in helping local business owners find the right types of coverings for the windows of their businesses.
Dim & Dingy Rooms
Too little light causes lots of obvious issues. It's hard to work in a room like that - motivation is hard to sustain when you're working in permanent twilight. In severe cases it can even cause health problems; employees who spend all day staring at a computer screen in a darkened room are susceptible to eye strain. Natural light is the best way to illuminate any room and reduce gloom. With the right set of blinds or shades, you'll be able to generate an indoor atmosphere that will find employees motivated and more productive.
How To Reduce Glare Using Shades
Too much sunlight can be as bad as too little. Nothing makes people as uncomfortable as sunlight aimed directly at them, and in many cases people won't be able to avoid it. Patients in a clinic, for instance, might be exposed to bright sunlight without the ability to shade themselves from it. Custom blinds or shades are the only way to help prevent this and maintain a pleasant environment inside your commercial business.
Matching Any Décor
The demands of commercial window coverings are very different to home furnishings; professionalism is more important than color coordination and rustic appeal, although those are still prerequisites. A wide range of aluminum, steel and vinyl blind designs are available in many different styles to provide a clean, modern look while also being easy to maintain. When it comes to shades, there's just as large a variety of different fabrics and sheer or opaque light filtering materials.
Schedule a Free Consultation Today
Blinds & Shades Escondido is available to provide a free consultation at your property, face to face. If you're interested in finding out more about how custom window coverings can benefit your commercial business in or near San Diego, simply get in touch with us.