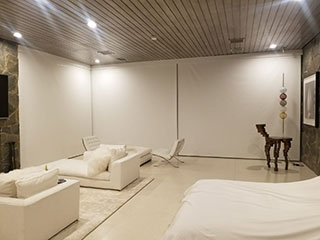 True to their name, automatic window coverings provide a sense of automation when it comes to sunlight control. You can get motorized blinds installed in any room and on any type of window or glass surface, big or small. This lets you control how much sunlight passes into your interior spaces with effortless ease. AS a local team of Escondido motorized blinds experts, we help local homes and businesses make the most out of their window coverings with smart Wi-Fi motorization features.
Electric Blinds With Wi-Fi Remotes
One of the most popular choices for motorized window blinds is the smart operation method that utilizes Wi-Fi. Since your home wireless internet network is already available and necessitates no additional wiring, getting Wi-Fi-connected motorized blinds lets you capitalize on that. You can turn your tablets and phones into remote control handsets this way. This lets you control the motorized window blinds from anywhere in the vicinity. You don't even have to set foot in the room to raise the blinds or bring them down. Wi-Fi is being used for a lot of different machines and appliances, so incorporating it with the blinds of your Escondido property should feel natural. We use it for many smart home systems and devices, so this was the most obvious step forward.
How To Power Motorized Blinds
For power choices for motorized window coverings, you have a few different options. Each one serves different clients better, with pros and cons to make it more suitable for their needs or less so. Wired motorized blinds connect to the main power with a cord. This makes for a bit longer installation, but the motors can often run faster this way. Plus, you can control multiple sets of motorized window blinds at the same exact time with complete unison. Battery-powered blinds take far less time to install, however, the battery pack is considered a bit less aesthetic by some. In addition, the movement will be a tad slower with motorized blinds no battery power. These are the two most common options, but there's a third choice.
Solar-powered Motorized Window Coverings
For smart homes, utilizing solar power is a great way to motorize your blinds. You use the energy from the sun to move the blinds, which in turn block or filter the very rays of warmth that power them. Solar-powered blinds can sometimes cost a little more initially, and the installation can take a tad more time. However, in the long term, motorized blinds with solar-power will pay back dividends on the energy you're saving. Not only by powering the blinds. Motorized blinds can help you lower your energy bill for cooling or heating your Escondido home too. This can make them effective long-term money savers.
Get New Custom Blinds Motorized For The Escondido Area
From office spaces to residences, our local motorized window coverings installers help properties all over Escondido find the best remote control blinds for their needs. You can discuss all the different features and designs with our experts with a free estimate on motorized blinds or shades. With our huge range of available options, you can customize different features too. Give us a call and tell us what you're looking for. We'll schedule a free consultation to provide all the information you need on motorized blinds, shades, draperies, and more.