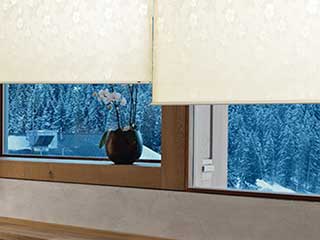 Controlling natural light can be a great way to cut back on your energy bills. Few homeowners appreciate how easy this can be, as this is one of the many benefits that motorized window coverings bring that isn't always advertised. With the right set of electric blinds or shades, you'll have no trouble maintaining a pleasant indoor environment and making the most out of natural lighting on a regular basis.
Heating Your Home With Sunlight
When it's bright outside, you'll want your home to capture as much natural light as possible. This free energy helps to heat your home, and contributes significantly to the temperature of your property. However, as soon as the sun fades away your home may begin losing heat quickly through the windows. Even if it's nice and warm outside, as it often is during the summer, you still want to maintain your privacy, right? That's why you'll want to close the window coverings. But how often will you draw your shades in single a day? Once or twice, maybe? You're missing out on a lot of efficiency this way.
Automatic Sunlight Capture
Modern motorized blinds that utilize Lutron or Somfy products can be "taught" how to make the most of the sun. Using a pair of sensors, you can have your automatic blinds detect when the sun is shining outside and open in order to let it in. When the sun begins to set, and natural lighting is no longer a viable option, your shades will automatically close. In fact, even if during the day the sun gets too bright or not bright enough, they'll self-adjust accordingly to maximize your indoor illumination. That's the brightness sensor. By utilizing a temperature sensor, you can have your blinds monitors how warm your home is; when it's warm enough, or too warm for comfort, they'll adjust to mitigate it.
Cooling Your Home Automatically
The same principle can be applied in reverse to help keep your home cool. During summer you may well avoid having the blinds up, since you need to keep each room as cool as you can. However, motorized window coverings can allow heat to bleed out through the windows when the sun goes behind the clouds. Again, you can have them do so automatically, or you can simply control them using a remote handset, a wall switch, or your smartphone. It's completely up to you.
Saving On Energy Bills
Heating and cooling a home is one of the most expensive uses of energy most homeowners have to deal with. By cutting back on the amount of energy you need to use you'll be able to save on your utility bills - and this is just one of the many advantages that motorized blind systems can provide. For more information about the different options, motors, and controls available for your custom made shades, schedule a free consultation with Blinds & Shades Escondido to have an expert meet you at your home.